The Knuckleball Does Everything By Doing Nothing
Sports writer Tyler Kepner's new book K: A History of Baseball in Ten Pitches (published just this April) includes a chapter on the knuckleball, "The Knuckleball: Grabbing the Wing of a Butterfly." In part, we learn, the knuckleball is about being able to compete.
Almost all knuckleballers were rejected by the game before they could last very long. They earned their living by grabbing the wing of a butterfly and then, somehow, steering it close enough to the strike zone, again and again, to baffle the best hitters in the world.

"Most of our careers were headed in a different direction, and out of desperation, we all found the knuckleball," says Tim Wakefield, who won 200 games with it. "So I think the knuckleball itself has humbled most of us to a point where we're grateful that we still have a job and we're still able to compete."
So, throwing a knuckleball entails being humble. Either that or having a huge ego:
"Compete" is the word Charlie Hough uses to explain his reason for throwing it. Hough was a decent pitcher in Class A for the Dodgers, but after six months in the Army reserves, his shoulder hurt when he tried to pitch again. With average stuff to begin with, Hough guessed that his future would be working at the Hialeah Race Track, two blocks from his home in Florida.

Then a scout named Goldie Holt showed him how to throw a knuckleball. Hough gave it a try.

"If you want to compete, you compete," he says. "You find something."…

Floating knuckleballs for a living takes a special kind of athletic bravery.

"I think you need a huge ego," Hough says. "You need to believe that you're the best pitcher in the world when you're in there. When they put down '1' for Nolan Ryan, he threw it 100 miles an hour. When they put down '1' for me, I threw what I felt was a pitch they couldn't hit."
Can anyone throw a good knuckleball? No. Is it easy to throw a good knuckleball? No.
"People watch us throw and they say, 'Oh, that's easy,' " Wakefield says. "Throwing it at 65 or 70 miles an hour, anybody could do that. But in reality, it's really hard. And to be able to throw it for strikes consistently, that's the big thing. I mean, every middle infielder had a good knuckleballer—but can they get on the mound and throw it to a hitter with a game on the line?"
Phil Niekro says that with the knuckleball, "you want to throw something that's not gonna do nothing [unlike other pitches], but it'll do more than any other pitch you throw up there."
Kepner accepts the paradox: "By doing nothing, the pitch with no spin can do anything."
* * *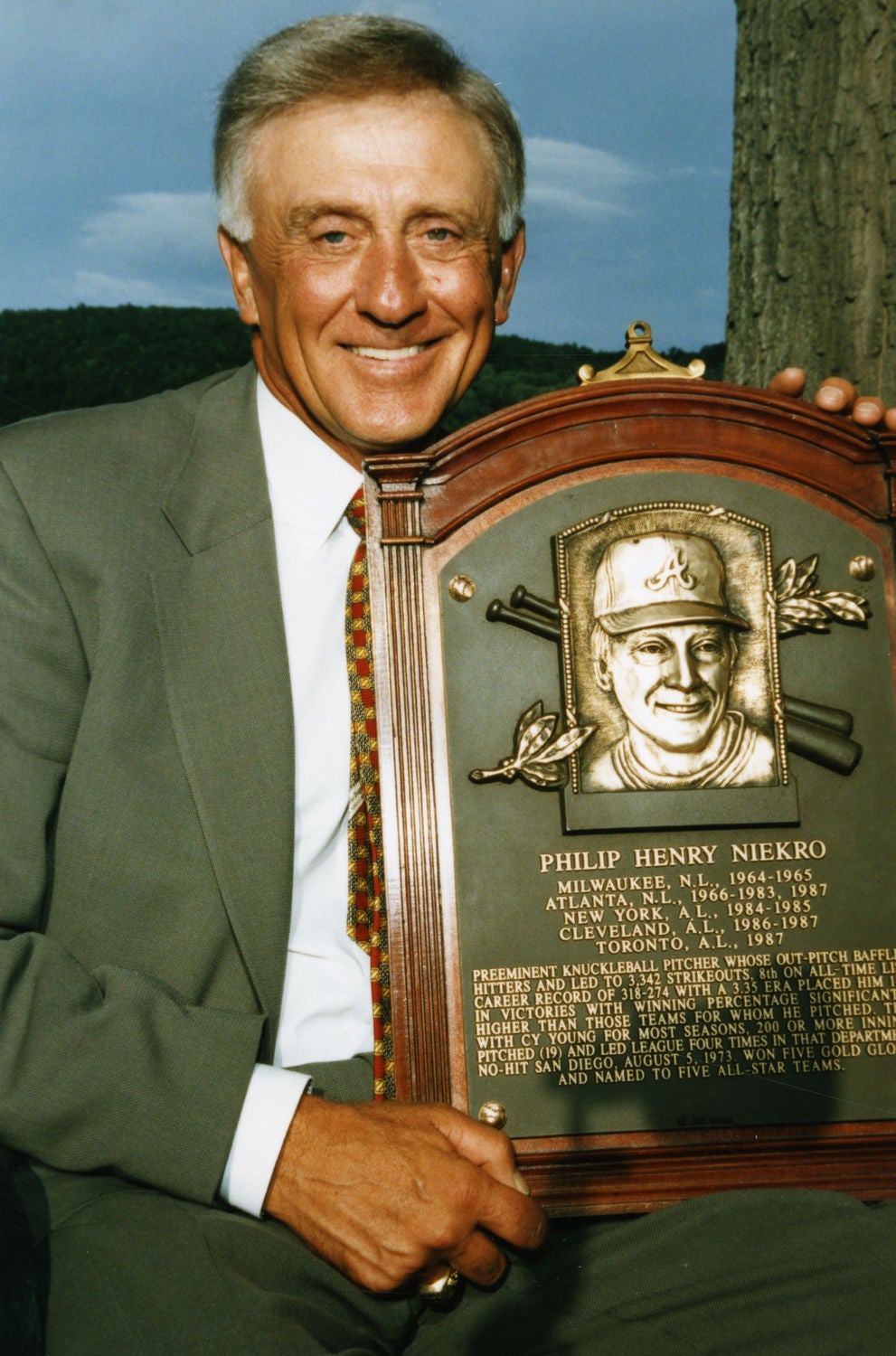 Speaking of Phil Niekro, the blog Baseball from the Outside recently defended the Hall of Famer against the charge by Reggie Jackson in a 2012 interview that Niekro doesn't belong in the Hall of Fame.
Was Reggie right, though? Of course he wasn't. At the end of his career, among pitchers with 5,000 innings in their careers, Niekro ranked 8th in WAR and 9th in ERA—out of 11 pitchers…. Only 11 pitchers in the history of the game threw as many innings as Phil Niekro had. Of those 11, only four were contemporaries of Niekro in Warren Spahn, Steve Carlton, Gaylord Perry and Sutton. The most recent of the rest was Pete Alexander, so that's going back quite a distance. That means that Niekro accomplished a feat that legends of the game like Tom Seaver and Bob Gibson never did. Overall, even to this day Niekro ranks fourth all time in innings pitched, with the only three above him being Pud Galvin, Cy Young and Walter Johnson….

One of the reasons I use both RA9-WAR and WAR (which is based on a pitcher's FIP) instead of just one of the two is because using both paints a clearer picture of the pitcher's dominance. Only 22 pitchers have an RA9-WAR above 90, and at Niekro's retirement, that number was only 18. At his retirement, only 16 pitchers had a WAR above 75. The number of pitchers who met both of those marks was only 14. Niekro easily had a case at his retirement of being a top-15 or at worst top-20 pitcher of all time. There is no doubt that Niekro deserves the highest honor in the game. Some of his peers outpitched him, but he outpitched a lot of people, too.
* * *
From an April 2010 PowerLine Blog post about "This Week in Baseball History": "Baltimore Orioles Catcher Clint Courtney comes out with an oversize mitt to handle knuckleballer Hoyt Wilhelm. The glove is 50% larger than the standard equipment. The mitt is later banned by the league."
We suppose that catchers should not be allowed to use buckets—at least, not very large buckets—to catch the knuckleball.