Remembering the Knuckleball in 2018 and 1959
At overthemonster.com, Matt Collins reflects on Steven Wright's 2018, a rough year for the knuckleball pitcher. Wright was late starting the season and then twice got knocked out of play when a knee injury from the previous year flared up. But there was  "some solid pitching in between" the gaps.
On the field, Steven Wright was mostly good when he was able to pitch…. I mainly look at three numbers—ERA [Earned Run Average], FIP [Field Independent Pitching] and DRA [Deserved Run Average]—to judge a pitcher's impact, and Wright was outstanding by two of those three. For one thing, the knuckleballer pitched to a 2.68 ERA (albeit over just 53 2⁄3 innings), which was 63 percent above average when adjusted for park effects. DRA doesn't think that was much of a fluke, as he put up a 2.72 DRA that was 40 percent better than the league-average pitcher after being adjusted for park effects….
We know there are times when the knuckleball is unhittable, and times when it's flat and crushable. For Wright, it was the former more than the latter, and that was great for the Red Sox. After allowing a whopping nine homers in just 24 innings in 2017, Wright came back and only allowed five homers in 2018. Over his last four years his home run per nine inning rates have been 1.5, 0.7, 3.4 and 0.8. As long as he's keeping that rate under one, he seems to have plenty of success.
The part of the analysis we understand best: "plenty of success," "unhittable."
SABR probably has no statistic to measure a player's ability to stay in focus despite all the problems that Wright was coping with in 2018, but he must score pretty high there too.
* * *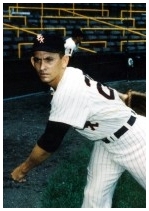 Early last year, a pitcher and native of Cuba named Rudy Arias, "member of the 1959 Go-Go White Sox," died at the age of 86. BaseballHappenings.net reported:
The lithe left-handed pitcher played only one season in the major leagues, but what a fine one it was. Signed by the White Sox in 1952, Arias fought injuries while working his way up to the American League pennant winners in 1959….
He fondly recalled the rest of the battles that the White Sox had with the Yankees that season, citing them as their toughest competition en route to the American League pennant. He proudly told how he foiled Mickey Mantle on a bet from teammate Jim Rivera.
"Jim Rivera told me, 'Rudy, when Mickey Mantle comes up, if you throw him a knuckleball, I will give you a six pack of beer.' I throw it, Mantle waited and waited, and man he got a pop up to second base."
After the one season, Arias wasn't able to continue in the MLB because of injuries. But for several more years, until 1967, he did pitch in the minors and in Mexico. He was well remembered in retirement, getting more fan mail "than when I played."
* * *
In "A Knuckleballer's Journey, Part 1," published January 8  at MetsMerizedOnline, Mickey Jannis, who signed with the Mets organization in 2015, reflects on his career in baseball.
My dad, Nick Jannis, was a baseball coach, and almost from the day I was born he introduced me to America's pastime….
Almost from the beginning, I knew I wanted to play professionally. I know that's the dream of many kids. I was determined to make it happen, though, and I received encouragement from family, friends, and coaches. To this day, entering my tenth professional season, they all support me as much today as they did in the first season….
My college career finished at Cal State Bakersfield. It was the program's first and second years, and we literally built it from the ground up—we would go out before class started and lay the grass for the outfield as a team. I earned the first start and threw the first pitch in program history. Ironically, knowing that I had a good knuckleball, teammates, family, and friends recommended that I throw a knuckleball as the first pitch in program history, I declined thinking that everyone was crazy. Years later I still regret not throwing the knuckleball.
Since the article is labeled "Part 1," we trust there's more to come soon. Stay tuned.
Click here to subscribe to the IKA newsletter by email and keep up to date with the latest about knuckleballers and the knuckleball.